The brief for this project was very simple…. Create video content for the charity St Basils to help spread awareness and help raise money to support the charity and their valuable work in youth homelessness. 
St Basils are the first charity we have worked with and until you get fully involved with a charity I don't think you really understand the issue. I can say that we personally learnt a lot about the growing issue of youth homelessness in the UK and are now both spreading the word personally about the issue to whoever will listen. 
After making initial contact with St Basils we then went into brainstorming mode to think about ways to deliver the various messages that St Basils wanted to get out in the public consciousness. 
We had ideas ranging from the comedic to conceptual. With a brief like this it's easy to try and be a little too clever and we found ourselves having to reel ourselves in a bit. 
What's important here is that we deliver the messages as clearly and concisely as possible without being too overbearing in the delivery. 
With this in mind we came up with the idea of a nice simple concept that gently educated the viewer about the issues by meeting key members of the St Basil's team (who are fantastic by the way) 
Visually we went with a studio set up that had one key component, a red chair! 
The red chair was there to make the piece more visually appealing without being overbearing but to also feature the key colour of the St Basil's branding. We don't want people looking at too much stuff going on, we want them to listen. 
The only way a piece like this works is if you have relaxed, charismatic, genuine people in front of the camera. As you can see the guys at St Basil's are just that and you can feel their passion and love for what they do as you watch the videos. 
After the main studio shoot we set about filming the different areas of St Basils including the Outreach team, youth voice and employability team which again was an education in itself. 
What has been produced has hopefully been a clear concise visualisation of the hard work and dedication that St Basils have towards the ever growing issue of youth homelessness in the UK. 
If you would like to know more about St Basils please follow the link below.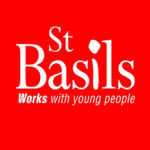 You might find you don't really understand the issue, I know we didn't.
"The team at creative pie have been a major factor in taking our storytelling to the next level. We tasked them with communicating our message to a wider audience and they delivered. They took the time to really understand what we are about and the way they handled the delicate nature of some of the young people we support was a joy to observe. The finished article has resulted in wider engagement with our target audience and has also resulted in increased donations to the charity. We highly recommend them to you."
Production Kit:
Blackmagic Cine Camera's
Seinhieser Audio Kit
Cine Lenses
Da Vinci Resolve
Spaghetti Studios Birmingham