Luke Sutton Addiction in Sport
Real honest conversations are so special and impactful. If the audience can see and feel how genuine it is, they will often watch for longer and also take notice of what's being said. 
Luke Sutton is a retired English Cricketer who won the NBC Denis Compton award multiple times and also played Twenty20 Cricket. Luke retired from Cricket in 2011 in part due to his battle with depression. 
We were asked to film a conversation between Luke and his therapist who'd helped him on his recovery journey at Priory Altrincham. 
The really exciting part of this was that Luke had not seen his therapist in over 10 years since leaving the Priory, and we needed his reaction to seeing her after all this time to be genuine, which meant we had only one attempt at capturing it. Yikes! 
We wanted this film to have an almost TV chat show feel, as seen on Channel 4's shrink rap which dealt with similar themes. A relaxed environment and multiple camera angles.
Setting up was quite easy even though we had no idea what the space was going to be like, the main concern was lighting however, we hired some lovely big lights from the ace people at Spaghetti Hire in Birmingham which took care of any concerns. 
Next we had to rehearse camera movements for the all important meeting between Luke and his therapist, we have one chance, one! 
Im happy to say we nailed it and captured this tender moment perfectly. Phew! 
We didn't cut during the whole piece as their conversation just flowed with ease, after about 60 mins the interview was in the can and we were extremely relieved that it all went as planned. 
Then it was onto the edit where various cuts, which the Priory used as social media content and Luke used to promote his book Back from the Edge. 
You can grab a copy of Back from the Edge by clicking the link below!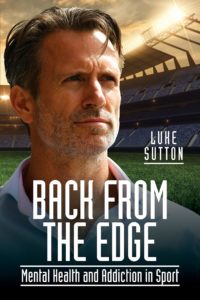 Production Kit:
Black Magic Pocket 4K & 6K Cameras
Seinhieser Mics
Cine Lenses
Da Vinci Resolve
Spaghetti Studios Lighting Set Up